All of us receive spammy offers from banks, consumer brands, ecommerce websites, retailers and many other businesses. If you're like me, you probably delete these SMS / email messages without even opening them.
Once in a while, we get a discount coupon on our birthday or wedding anniversary. They are more targeted but we still consign them to the spam folder because we're conditioned to receiving gifts on Major Life Events and discounts don't cut it.
It's rarely that we get an offer that makes total sense to us at the point of receiving it e.g. 20% off on Coke just after buying a pizza; offer to restructure a high value credit card purchase into six equated monthly installments, and so on.
The recent launch of Apple iBeacon has raised the potential of – and the buzz around – targeted offers to the next level and we should be hearing more about this going forward.
Now, cue to what happens when we decide to avail ourselves of a targeted offer.
We may go around in circles. Like I did on three occasions in the recent past:
A taxi hailing app sent me a discount code that I wasn't able to remember when I next ordered its cab. More on this at Walking The Tightrope Between Driving Repeat Purchase And Rewarding Loyalty
One offer app installed on my smartphone correctly recognized my location (Kalyaninagar, Pune, India) and showed me a 30% discount offer for a burger from a nearby restaurant, with delivery charges waived for good measure. When I tapped on the REDEEM OFFER button, the app took me to the quick service restaurant's website to place my order. However, the QSR thought I was located 2500 kms away (in Gurgaon, India, BTW) and politely declined home delivery since my address was outside its 3 kms delivery radius. To add salt to the wound, the QSR informed me that the offer had expired five months earlier
Another offer app sent me a very compelling targeted offer in a certain mall. When I tapped the offer's PUSH notification on my Android's notification bar to redeem it, the app generated *ALL* offers in the said mall. There were 50 of them. I bailed out because I didn't want to spend the time to locate the one offer that had sparked my interest among the clutter of 50 offers.
Hi @cardback: Boost conversion by showing only the 2 InOrbit Mall offers instead of regenerating all offers. http://t.co/Pqc3joGuLL

— GTM360 (@GTM360) May 23, 2014
Going by my datapoint of three, it's hard, if not outrightly impossible, to redeem targeted offers from most brands.
Brands lose sales when consumers are unable to cash out on offers. They also risk alienating their brand loyalists and converting them into brand antagonists. When ditched consumers take to social media to share their negative brand experience, that could prove costly for brands.
That said, there are brands that go out of the way to ensure that consumers can easily avail themselves of their targeted offers.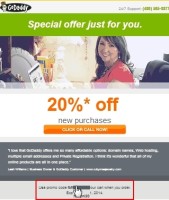 Go Daddy is one of them.
The world's #1 domain registrar recently sent me an email with an offer for 20% discount on my next order. Since I was in the market for a new domain name, the offer caught my eye immediately. My interest went up a notch when I noticed that the promo code given in the email was clickable (yes, I notice such things). Therefore, I went ahead and clicked the link. I was taken to Go Daddy's website, where I logged in with my credentials.
Now, if you've shopped for domain names, you'd know that the purchase funnel comprises of several steps viz. (a) enter the domain name (e.g. VacationRentals.com) (b) check availability (c) select the term (e.g. 5 years) (d) enter nameserver details (e.g. NS183.HOSTGATOR.COM) (e) punch in the credit card details (f) add promo code, and, finally (g) click the BUY button.
Go Daddy didn't ask for my promo code at any stage. Instead, the website applied it automatically to my checkout and assured me that it had given me the best price. I whipped out my calculator (yes, I do that a lot, too) and satisfied myself that I'd received the promised 20% discount.
Behind the scenes, Go Daddy had remembered – or "persisted" in geekspeak – my promo code.
Now, persistence is not a big deal per se. Many websites do it. In If You Must Use A Long Form, At Least Pre-Fill As Much Of It As You Can, I'd described my experience with a certain brand. When I clicked its Promoted Tweet, I was taken to the brand's microsite. I saw the registration form prefilled almost fully. This was possible because the brand had persisted the ID received from Twitter and applied it on its microsite without asking the user to do it. However, in all examples of persistence I've come across barring Go Daddy, the data is persisted only on the landing page immediately following the click.
In contrast, Go Daddy persisted the promo code for three pages beyond the landing page. "Multistage persistence" of this nature is truly unique.
Kudos to Go Daddy for going the extra mile to implement this technology, which resulted in one of the best fulfillment experiences of a targeted offer that I've come across. I'm sure the company is reaping a rich harvest by enjoying above-average redemption rates for its offers.
Ka-Ching!